Welcome to Much Wenlock
You have arrived at a very unique and special place! The Shropshire town of Much Wenlock is a quintessentially English town, off the beaten track, but well worth the visit.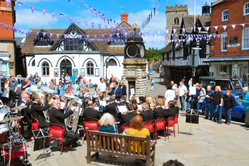 Not only is Much Wenlock a stunningly beautiful medieval town, it also played a part in the birth of the modern Olympic Games. Much Wenlock is the birthplace of Dr William Penny Brookes, the inspiration for the modern Olympic Movement and founder of the Wenlock Olympian Society. In recognition of our sporting heritage, the 2012 London Olympic Games named one of their mascots Wenlock.
Today, with a population of around 3,000 people, Much Wenlock feels much more like a village than a town. Try sitting on a bench in the Town Square it won't be long before the person sitting next to you is willing to talk of the old times and be just as interested in you as you are in the town.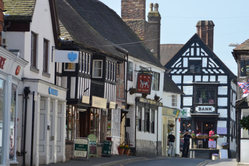 Stroll around the town centre and it may seem you have stepped back fifty or more years. You won't find any 'big names', but you will find a great selection of traditional shops, all offering good old-fashioned personal service. Much Wenlock is a place where folk still have time for you.
Much Wenlock has been a market town for over 700 years and has a history that stretches back much further.
Go back 430 million years and we were part of a coral sea - you can learn about that, or the time the Romans were here, what the Victorians did for us and the modern Olympic Games in the local free museum.
Our architecture is a varied as our history: On the streets you will see examples of Medieval, Georgian and Victorian. A short stroll from the town centre are the dramatic ruins of Wenlock Priory ruin, laid upon the site of St. Milburga's Abbey at around 680 AD.
Our beautiful ancient Guildhall is open to the public in the summer months.
In the town there are holy wells, shuts, cobbles, whipping posts, stocks and all sorts of Olympic artefacts can be seen in the museum.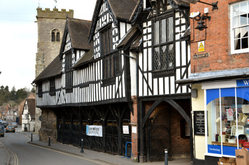 And there is an amazing selection of Visitor Attractions to enjoy throughout Shropshire and within easy reach of the town.
There are lots of walks both in the town and in the surrounding beautiful Shropshire countryside, including the magnificent Wenlock Edge escarpment.
Please explore and enjoy... then travel here for a real visit, we know you'll want to come back!
---