4. Holy Trinity Church
Published 26 April, 2011
As you walk alongside The Priory, you will approach a stone tower which was once part of the complex.
Inside the walls is now the Priory Hall, now available for public use, but was once Wenlock National School 1848-1952.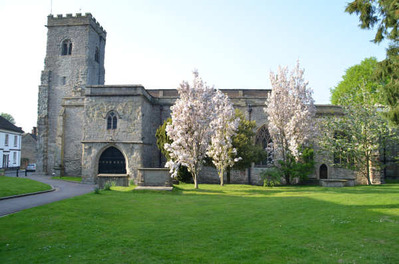 Walk past the tower and turn left into the Priory Hall car park.
On your right is John's cottage (1400's) a fine timber frame cottage with a cobbled front pavement which gives you a feel of what the town was like. A brook ran down the road and was aptly called "shit" brook because it was effectively the town's open sewer! Later it was culverted and covered over, thus making the lane.
Walk straight towards the willow tree and you will find a few steps to walk up and a gate. You are now on the church green of Holy Trinity Church.
Walk straight ahead to the graves that are enclosed with blue painted cast iron edging.
These belong to the Brookes Family, as you read them you will learn of all their accomplishments and benefits to the townspeople. Inside the church there is another memorial to Dr. William Penny Brookes.
There are many links to Brookes and the rebirth of the Modern Olympics throughout the town, how many can you find? In addition to this walk you can also follow the Official Olympian Trail - pick up a leaflet at the Visitor Information Centre.
As you stand between the graves, look to your right to the church wall, can you see some vertical grooves in the wall under the windows? Do you know what made these? They were made by men sharpening their arrows as they awaited their masters who were attending service.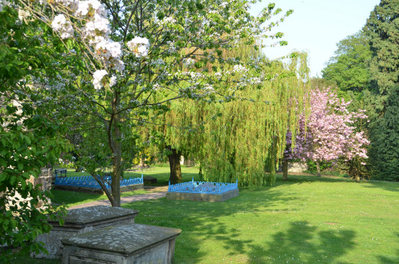 Follow the path to the front entry of the church. The church is open daily for visitors.
It was here that St. Milburga (Wenlock's female saint and abbess of Wenlock Priory) was buried and later moved. Actually her remains are said to have been moved a number of times. She is reputed to have started the church for the women town folk and her nuns to attend services.
It became the church of the parish around 1100 and the Cluniac monks from The Priory were said to be responsible for much of the stonework.
The church encompasses many time periods as it went through restorations. During one phase the remains of 3 unidentified people were discovered. It is said that they can sometimes be seen as ghostly shadows with their heads hung down around in the church yard.
As you leave the church, stand in the archway and look at the lovely selection of trees on the grounds.