8. The Guildhall
Published 26 April, 2011
You now have come full circle and have a front view of The Guildhall (16th century). The lower section is still used as a market.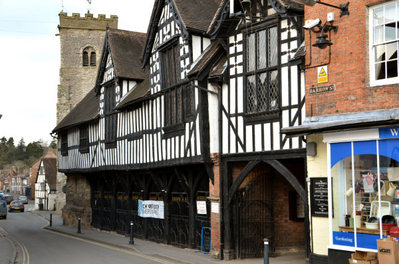 Look at the oak upright to the left of the gates and you will find hand irons which were used as a whipping post!
If you go inside the market you will see some of the original borough signs which extended over 17 parishes.
On the opposite wall is an interesting order from September 1850 regarding Monday market day restrictions and fines.
Behind that sign is the old medieval stone jail built in the 14th century. The last offender to be sentenced by the courts was a Thomas Lloyd in 1852.
Upstairs are the council chambers which are still in regular use and the old court. Above the judge's chair you will see The Coat of Arms of Queen Elizabeth I (1589).
There is an English lion on the left, a Welsh dragon on the right, a sword of justice hanging dead centre and a Latin inscription-translated below.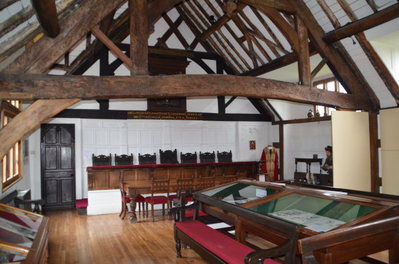 "This place abhors inequity
Loves peace
Punishes wrong doings
Upholds the law
Honours upright men"
Note that the carver made a mistake with the Latin word spelling NEQUITIAM and had to insert the U above rather than spend, one would imagine, a long time re-carving the whole thing.
You will also find the scales of justice, the Borough of Wenlock Seal, lists of bailiffs and mayors and stocks on wheels to roll people around publicly to embarrass them.
The building is open to the public seasonally.