News & Features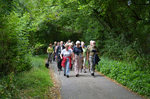 Much Wenlock Walking Weekend 2013
The Second Much Wenlock Walking Weekend will be held from 6 - 9 September 2013.
Over the Edge Marathon with the National Trust
A South Shropshire landmark is set to host a challenging event in partnership with the Wenlock Olympian Society.

Our Olympian Heritage
In 1850 the first ever Wenlock Olympian Games were held in Much Wenlock.